LATEST UPDATE
Updated March 17, 2015
SPRING OPERATING HOURS:

M-W-F: 8:00 am – 5:00 pm. Sat: 8 am – 5pm. Sun: Closed. By appointment after hours – call Bobby Ray Holmes at 256-404-4316. 
2015 Annual Tree & Plant Sale Happening NOW!
Your Local Source for Excellent Plants
Review the lists of plants and trees we offer – click here.
Thousands of trees and plants to choose from! And so much less than the competition. 
Competition Fruit Tree Prices: $21 to $24 + Tax
Holmestead Farm Tree Prices: $12 to $13 TOTAL
These are not the plants sold in the Big Box retail stores. Our plants are from certified commercial nurseries backed by local University research and support. Excellent root stock and the correct variety for our growing area. Plus, when you shop with Holmestead Farm, you get the advantage and benefit of our knowledge and experience we've gained right here on our own farm. We've done all the experimenting and trial and error so you don't have to. Have a growing or plant question? Just ask. We love to share knowledge and talk about farming and gardening.
SAVE BIG ….. Don't Miss the Holmestead Farm Annual Tree & Plant Sale.
You'll save BIG bucks on our trees, plants and vines because we sell to the public at Wholesale/Nursery prices. Our plants are sold as bare-root packaged as well as in various size pots. Don't see what you want? Not to worry. Whatever you want we can procure it for you. Call 256-404-4316 or email Bobby Ray at holmesteadfarm@yahoo.com.
Homeowner Fruit Tree Package Deal
10 Fruit Trees for $110
This year, we have put together a "Homeowner Fruit Tree Special Package Deal." The package includes:
2 Apple Trees – 2 Peach Trees – 2 Plum Trees – 2 Pear Trees – 2 Fig Trees.
Plus, you get our knowledge, experience, and advice for FREE!
Our Usual Offerings
Look over the listings here to review the wide selection we have on sale. We look forward to seeing you soon.
2015 Strawberry Season Should Be Awesome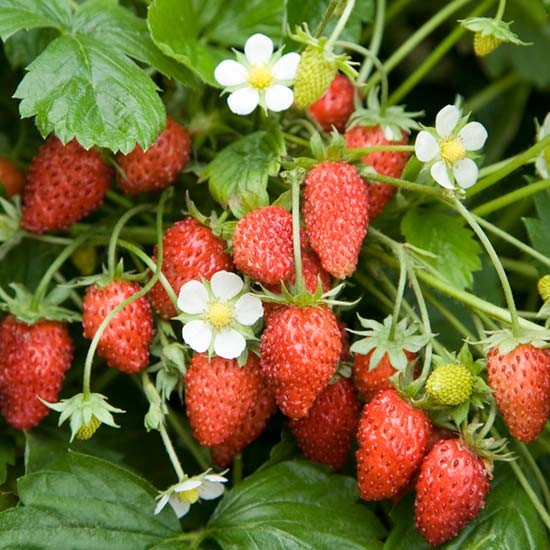 It was a lot of work planting 13,500 strawberry plants this past October but it sure will be fun to watch them ripen up next spring and share the bounty with all of our great customers. We can't wait to put those delicious red fruits in our mouths. How about you?
Are You Following Holmestead Farm on Facebook?

If you haven't LIKED our Facebook page, do so today and tell all your friends to subscribe to our newsletter, too – it's easy … just go here.
Spring Hours of Operations
M-W-F: 8:00 am – 5:00 pm. Sat: 8 am – 3 pm. Sun: Closed. By appointment after hours – call Bobby Ray Holmes at 256-404-4316. 
A QUICK REMINDER
If you have a group, adults or children, that would like to visit the farm to pick or for educational purposes, give us a call and we will work to accommodate your schedule. We also have a very nice, large room at our produce shed that we let groups like Garden Clubs use for meetings and gatherings. Give us a call if interested in using it. We are also available for speaking engagements.
Subscribe to our Newsletter
Be the first to know about what's happening at the Farm … sign up for Holmestead Farm News via email – Click the image at right to get started.
We invite you to visit us at our beautiful 95 acre "U-Pick-Em" berry, fruit and vegetable farm located at the foothills of the Talladega National Forest in scenic east central Alabama. Centrally located between Talladega, Sylacauga and Ashland, Alabama, we're only a short ride away and the scenery alone is worth the drive. Get directions.
At Holmestead Farm you can go into our fields and vineyards and pick your own organic berries and fruit or buy it "ready-to-go" at our fruit shed. In season, we offer the finest tasting blackberries, blueberries and grapes in this part of Alabama. And we have muscadines, scuppernongs and lots of different fruit tress  … all pesticide free. Plus, we're always expanding our vegetable offerings.
Become a subscriber to our website and join our news list so we can update you when everything is ripe during the season.
We can't wait to meet you, your family and friends and share the goodness of Holmestead Farm and God's creation.  Contact Bobby Ray Holmes at 256-404-4316 or holmesteadfarm@yahoo.com.
Spring Hours of Operations
M-W-F: 8:00 am – 5:00 pm. Sat: 8 am – 3 pm. Sun: Closed. By appointment after hours – call Bobby Ray Holmes at 256-404-4316.